It's Just An Object.
At the Aliwal Arts Festival in January 2017 we stepped into the purple enclosure of DXXXXD's installation No Regrets For Our Youth. Like a lot of interactive installations, it was initially awkward – those moments of hesitance that you have to wait for the careful public to get over. Waiting for when audience civility is cast off. Once people began actually playing with the structures in the room, the atmosphere changed completely. Lighting and music are important. Simple presence of food, drinks, smoking areas. Accessible consumables that keep you moving.
Bodies interacting with the object realizes the essence of the art. Otherwise it is too still, dead, alone and it hasn't become just yet. The space of the interactive installation is meant for you to join its energy simply by being what it is, and it is up to the observer to join its live environment. Don't be as still as the object if you don't have to be.
Here we are going to explore objects and structures that come alive with performance and human interference, and at the same time, 'less real'. They are not real metal structures or constructions anymore. The audience becomes less real by becoming performers themselves in interacting with what is given to them. It's not about the limitlessness of the installation, but engaging with its limits and bringing the work to its most realized form. It is a cliché but there lies the power of performance, which allows natural fluidity from object to subject and vice versa and their coming together in the presence of art.
DXXXXD, Tess Pang
No Regrets For Our Youth, installation, performance, 2017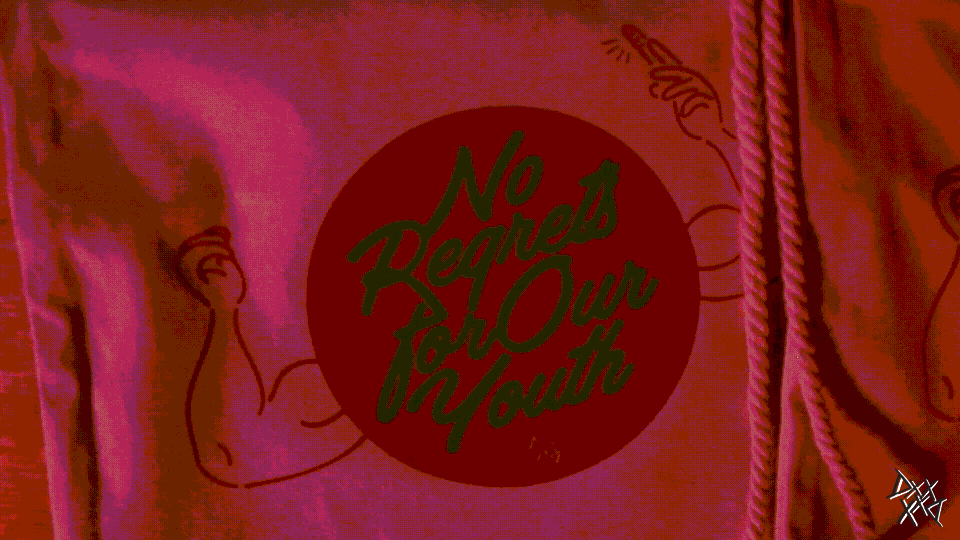 What X liked about No Regrets For Our Youth was that it didn't need lengthy explanations to understand it. It wasn't jarring but it wasn't at all underwhelming. DXXXXD captured the colour, mood, the dark shazam of a cult and it was absolutely cool because you want to be a part of it until you realise there is really nothing functional to be a part of. You're pulling down this handle bar connected to a weight and thinking, 'yes, look the weight is moving and it is actually kind of heavy??' and you can feel your muscles exerting effort and then you realise, you're just lifting an old computer monitor. You've burned a monitor's worth of calories! Well done!
It's clever because DXXXXD is effectively coaxing you into playing with these mockeries of machines. Especially after talking to the collective directly, you can just feel their amused chuckles in the spirit of these loosely-there workout benches, bench presses, pull-up bars and iPad-sized ping-pong table. The initial apathy or even seriousness of the audience's involvement, and transition to their bemusement is exactly the success of No Regrets For Our Youth.
In all seriousness, DXXXXD was also uncovering the dark side of the industry of fitness gurus and gym buffs. With social media inundating our minds with images and videos of impeccably toned figures, no one can escape this drama of aesthetic perfection. This isn't to disregard the actual positive effects of fitness and #GYMLIFE, but rather to question the aggressive celebration of it. As almost-not-millennials, DXXXXD talked to us about how ridiculous it is to see people's painstaking endeavour for individuality in a virtual sea of standardised, highly manicured images. The general acceptance of a culture of giving social and economic value to Instagram photos and the cost of getting there is a bizarre and obsessive trend in retrospect.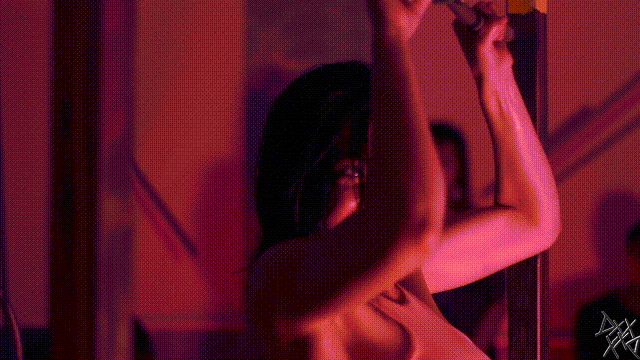 Tess Pang's one-time performance of No Regrets For Our Youth brings out this perturbing perspective that general audience interaction could not have. Her performance is as mesmerising as it is uncomfortable. Watching her, she is an athletically intimidating creature gone mad. She has embodied the mindlessness of body-perfectionists that powers the booming gym and fitness industry. She grins at you with a manic glint in her eyes. This creature takes sweaty pleasure in these workouts that are not actually real.
Maybe it's a little overdone. Or we are being too hard on gym culture. Maybe we depend on the media to satisfy our desire for human perfection. Maybe online validation is worth all the drama and social anxiety. Maybe it's become too easy to forget that your body is a shrine not a mechanical product. Whatever it is, the gift of performance tells us that there is always room for us to enjoy confusions – like confusions of real life and virtual life ideals or values of self-worth – to really embrace them and go mad.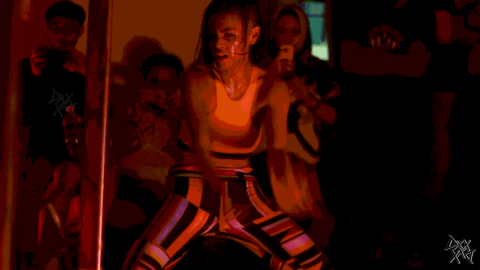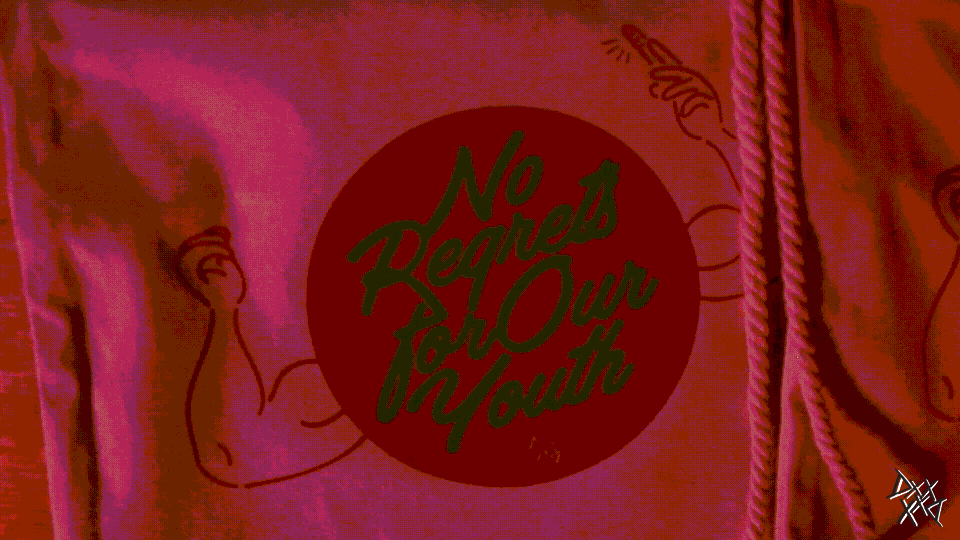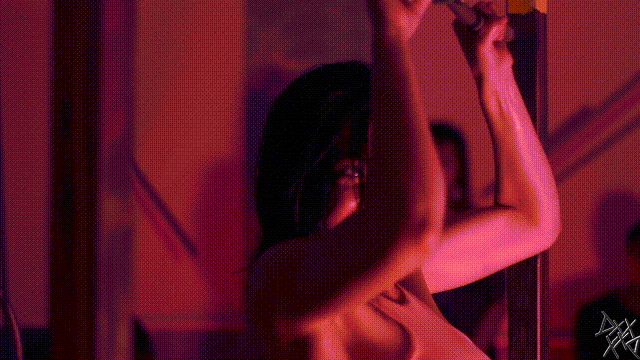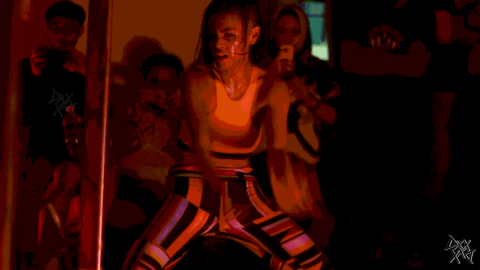 Michelle Kartokusumo
Beauty in Motion, 925 silver, stainless steel wire, organic plant, pvc sheet, silver leaf, various dimensions, 2016
Michelle Kartokusumo's rings caught our immediate attention when we visited Grad Expectations, NAFA June 2016: they were fabulous, smart, fun and simple. As displayed below, each ring serves specific genres of piano music: Baroque, Classical, Romantic and Contemporary. Her work was showcased in NAFA's Best of the Best Show or the School of Art and Design the same year.
Many months later X sent a fangirl email to Michelle and got to sit down with her to talk about Beauty in Motion.
Michelle was exploring the theme of lightness and nature. She wanted to design something that engaged naturally with movement. Initially Michelle was interested in bodily movement, and looked at very dramatic images of people dancing with flour. She was interested in the way the flour gave movement a very visible shape and energy.
From full bodily movement she moved to focus on the pivoting parts of the body that cause movement: the hands, wrists and the fingertips, from which the flour was thrown in action. Naturally, this was a movement she was familiar with because she used to play the piano. Michelle chose to create rings for Beauty in Motion as she found they could capture the different motions of individual fingers hitting the keys.
The first time the rings were performed in real-time was during that random period when there were 25 pianos scattered across the island. Whilst the rings did not actually feel that light for the performer, their visual performance encapsulated the very lightness Michelle was pursuing. The art of the rings is thus realized only in the perception of the audience. The audience never thought music could have a 'shape' until they saw how the protruding parts of the ring were shaking with greater intensity at the climactic moments of the music.
The point of the pianist is for the audience to listen to the music. Ultimately the average listener does not really care how the pianist has created the sound of the notes. They are deaf to the complexities of sound. But Michelle's rings break that boundary and make music beautiful to look at. Beauty in Motion is only an object when it is worn and performed with. It only becomes with a body and with music. It also grows and reacts in its performance – it has personality that adapts to every genre of sound. Go get yourself some objects with personality is all we're saying 😉
Michelle booked a very specific piano room to be performed in at a very specific time early in the morning. She had discovered that with the open window adjacent to the piano, the sun cast reflections of branches and leaves against the piano. It was a perfect, timely natural dialogue between her rings and the natural world outside.
When all the elements and details of a show – from the stage to the lighting to the performers' fingertips to the flick of a feather – play out together in perfect combination, this is when you know the show is complete and it was so worth your time. The crowd stands up in applause. The curtains go down. Enamoured fans and critics go back and write reviews. X goes online and gushes.
Adam Lau
U N I, performance, 2016
In Adam Lau's U N I he commands his performance so that he becomes an object. It is reminiscent of Marina Abramovic and Yoko Ono, but has an entirely captivating and unique story of its own that is illustrated in our emails below.
We met Adam through the Visual Arts Society in Yale-NUS that he was President for a year ago. For his involvement with the society and his permanent bare-footedness, X is very grateful.
X sees U N I as a reversal of DXXXXD's gym & Michelle's Beauty in Motion. What happens when the object is a breathing, living human body? There are no qualms in interacting with the gym or the rings, and thus it is so much easier to bring these works to their fullness. Why is there a pang of ethical or moral dilemma when you smear lipstick on this body, when you fill in the eyebrow and stick a cigarette in the mouth? Even when you are given calm instructions? The interacting audience reveals that the human body has absolute capacity to be objectified, and the idea left in the silence of this room is that objectification is a very natural, human thing to do.